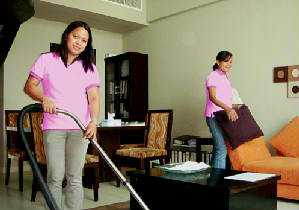 PINKMAIDS.SG is a domain wholly owned by Semura Cleaning Services Pte Ltd. It is also the online trade/brand name for the domestic/household cleaning division of Semura Cleaning Services Pte Ltd, a business entity registered in Singapore with the Accounting and Corporate Regulatory Authority (ACRA), Licensed by the National Environment Agency (NEA) to operate a cleaning business in Singapore and Approved by the Ministry of Manpower (MOM) under the Household Services Scheme (HSS) to provide household cleaning services and child-minding services in Singapore.
PINKMAIDS.SG is well-known for it's hassle-free, professional and highly reliable part-time maid services in Singapore since 2011.
We have No Agency Fees or Binding Contracts to tie down our clients thus paving way for a quick exit if one needs to relocate or wishes to end the services. Clients only need to fulfill the sessions they have paid for which are usually on monthly basis. They also need only give 3 working days notice to do any changes to any confirmed sessions.
In PINKMAIDS.SG, cleaning homes and household chores are our only speciality and profession. We do nothing else ! We rather be a master of one than jack of all trades and master of none !
We take pride in our work and are rewarded with many regular clients. Many of whom have trusted us with their house keys so that we can enter and clean their homes while they are at work and are happy to return back to a clean, sanitized and nice smelling homes after work !
Our core business consists of General Domestic Housekeeping Services such as sweeping, mopping, dusting, vacuuming, washing of toilets, cleaning of windows and ceiling fans, washing of pots, plates, utensils and cutleries, watering of plants, changing of bed linens, assisting in food preparation by cutting food items to size, following clients on grocery shopping and on-site Laundry Services such as washing (using client's washer and dryer), folding and ironing on 4-hourly sessions islandwide at Ad hoc, Weekly and Monthly basis.
Additionally, we also undertake Packing and Unpacking Services for house shifting, Pre Move-in and Post Move-out Cleaning, Handing-over / End of Tenancy Cleaning, Post Renovation Cleaning, Festive Cleaning, Spring Cleaning and Thorough / Deep Cleaning.
We also provide Child-minding / Babysitting Services for children aged 18 months and above.
At PINKMAIDS.SG, we promise you a satisfactory service at a reasonable fee. We believe in value for money. It is not about service alone, it is more of a service from the heart and that is what we take pride in !
Our cleaning sessions are from Mondays to Saturdays from 9am to 1pm and 2pm to 6pm. We are closed on Sundays and Public Holidays but we do entertain calls and WhatsApp messages whenever we are available and would return call or messages the next working day if we are unable to attend on that day.